Who Were the Scottsboro Boys?
On March 25, 1931, nine young African American boys were pulled off a train, falsely accused of rape and sentenced to death in an outrageous miscarriage of justice. These are their stories.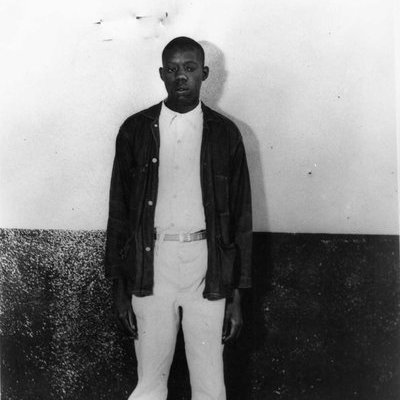 Olen Montgomery
Olen Montgomery
Age 17
Olen was born in Monroe, Georgia in 1913. After his parents divorced, he was raised by his mother, Viola, who supported the family on only $1.50 a week. He dropped out of school in the fifth grade to help his mother work. He was very nearsighted and blind in one eye from a cataract. Olen left home to travel to Memphis in search of a job that would allow him to buy a new pair of glasses. After his old glasses were broken when he was arrested, he was not given a new pair in jail for 2 years, during which time he could not even see a match in his own hand. He composed songs in prison, including "The Lonesome Jailhouse Blues," and longed for a guitar.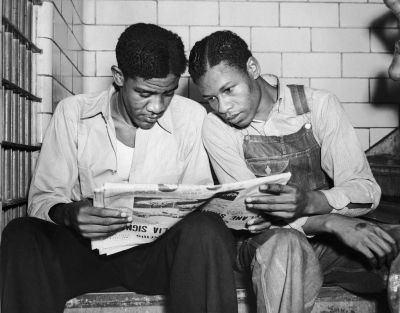 Clarence Norris and Charles Weems read in prison
Clarence Norris
Age 19
Clarence was born in 1912, the second of eleven children to sharecroppers in Warm Springs, Georgia. His father had been a slave and told harrowing stories of his life during slavery. At his father's insistence, Clarence dropped out of school after the first grade to help the family sow crops. Tired of his father's beatings, he left home at fifteen to find work. He fell in love, moved to Gadsden, Alabama, and worked in a Goodyear plant. After his girlfriend left him, he made his way to the railroad tracks. He was headed to Sheffield, Alabama to visit an aunt and to find work. In prison, after witnessing men die on death row, Clarence suffered nightmares of dying in the chair.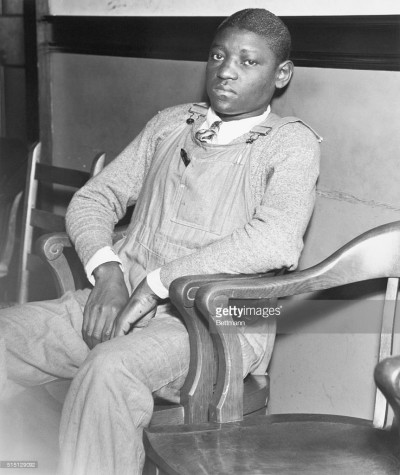 Haywood Patterson
Haywood Patterson
Age 18
Haywood was born in Elberton, Georgia, the fourth of nine living children to sharecroppers Claude and Janie. He was devoted to his parents and was especially close to his mother. He left school in the third grade to work as a delivery boy. With his parents having so many mouths to feed, Haywood ate meals away from home as much as possible and eventually left home at fourteen. He hopped freight trains from Ohio to Florida looking for work and was on his way from Chattanooga to work as a steel worker when he was arrested. After he was in jail he regretted not paying more attention in school. Using a Bible and a dictionary, he taught himself to read and write in eight months.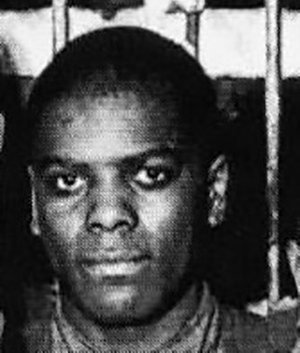 Ozie Powell
Ozie Powell
Age 15
Ozie was born in rural Georgia. He was quiet and shy, had only one year of school and could only write his name. Raised by his mother and stepfather, he began working hard labor jobs at thirteen. He ran away at fourteen, liked to travel and worked odd jobs while on the road. He was traveling looking for work when he was arrested. After several years in jail, he attacked a guard who insulted his lawyer and was shot in the head. He survived but suffered permanent brain damage and was never the same.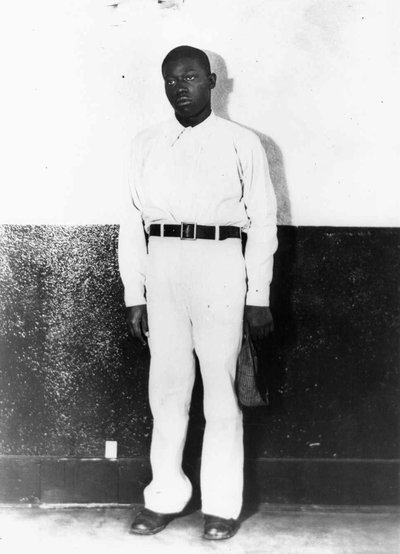 Willie Roberson
Willie Roberson
Age 15
Willie was born in Columbus, Georgia. His mother died when he was two and he was raised by his grandmother. He left school at the age of twelve and worked at a hotel until he hopped the train to Memphis to seek work. Willie suffered from asthma, which was aggravated due to the lack of fresh air in prison. He fell in love easily and would write letters to female pen pals describing his love of dancing, shows, parties, swimming, piano, guitar and tennis.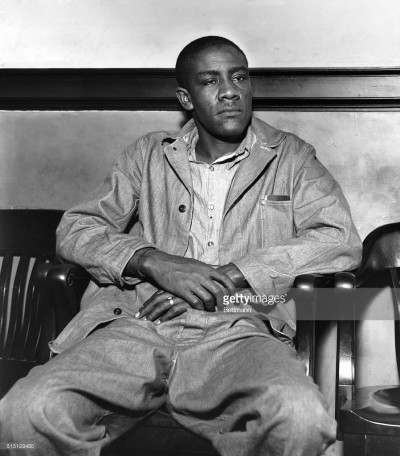 Charles Weems
Charles Weems
Age 19
Charles (Charlie) was the oldest of the Scottsboro boys. His mother died when he was four, and six of his seven siblings did not survive to adulthood. He dropped out of school in the fifth grade to support his family by working in a pharmacy after his father became sick. He was sent to live with an aunt in Riverdale, Georgia, but again dropped out of school to work. He was on his way to see family in Tennessee when he hopped the train. He contracted tuberculosis in prison and was stabbed by a prison guard who mistook him for Andy Wright.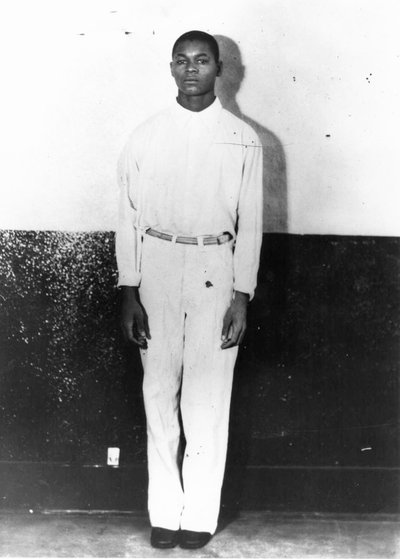 Eugene Williams
Eugene Williams
Age 13
Not much is known about Eugene. One of the youngest of the boys, his mother was Mamie Williams Wilcox, and he was working as a dishwasher at a Chattanooga, Tennessee café before he hopped the train.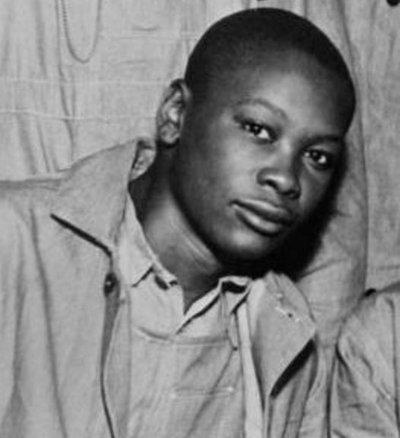 Andy Wright
Andy Wright
Age 19
Andrew (Andy) was born and raised in Chattanooga, Tennessee. He did well in school but dropped out in the sixth grade after his father died to help support his mother, Ada, and younger siblings. For seven years he drove a truck for a produce distributer until they learned how young he was and let him go. He heard about a government job hauling logs on boats, and with his younger brother Roy, set off for Memphis, Tennessee. He did not tell their mother where they were going when they left home that day.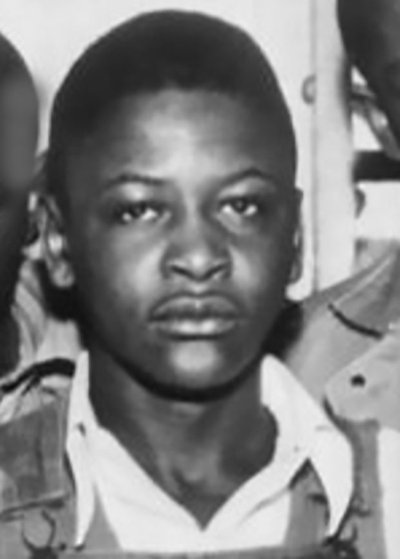 Roy Wright
Roy Wright
Age 12
Leroy (Roy) was the youngest of the Scottsboro Boys. He had four years of school before he dropped out to work in a grocery store. When he hopped the train with his brother Andy, it was his first time away from home. In prison, Roy liked to read and kept his Bible with him at all times. However, he thought that magazines would be the ruination of his mind.