Kander and Ebb: The Art of the Razzle-Dazzle
"John and Fred would always take you to very dangerous places, but while you're going there, you're enjoying every minute of it."
– David Thompson, book writer for The Scottsboro Boys in an interview with The Boston Globe


Renowned musical writing team John Kander and Fred Ebb have perfected the art of presenting social commentary as provocative musicals. They created two of the most iconic musicals in history, Cabaret and Chicago. Both musicals transformed difficult subjects, Nazi Germany and murderers on death row, into dazzling spectacles that are as entertaining as they are ruthless. The combination of Kander's romantic musical sentimentality and Ebb's cynical and biting lyrics transformed the American musical theater landscape. They continue this signature style with The Scottsboro Boys.
The Scottsboro Boys is a devastating story, but in true Kander & Ebb fashion, it's told in a captivating and diverting way. The music blends jazz, gospel, ragtime and vaudeville with searing, undercutting lyrics. The choreography is energetic and tap-centric. The creative team frames the story as a minstrelsy, a subversive commentary on the negative stereotypes perfected by the minstrel show and its ongoing effect on African American lives. Learn more about the history and structure of the minstrel show from the show's dramaturg, Sybil R. Williams, here.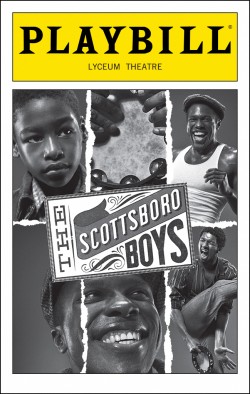 Original Playbill for The Scottsboro Boys on Broadway
As John Kander said: "It's a funny technique to balance — to be uncomfortable and then back to suddenly doing something where the audience is going, 'Oh, well, that's entertaining' or 'That's funny.' None of it's funny when you really think of it. But you can delude yourself into believing that." He compares The Scottsboro Boys to the song "If You Could See Her" from Cabaret, where the Emcee does an upbeat dance with an ape, but ends the song with "She wouldn't look Jewish at all." It turns the entire song on its head – it's shocking, unexpected, and very Kander & Ebb.
Kander, Ebb and book writer David Thompson got the idea of the minstrel show framing device while researching the Scottsboro Boys' story. David Thompson said an account from a Northern newspaper sparked their creativity. "The reporter said the boys were forced to perform as if they were in a minstrel show, and he described the whole circus surrounding the trial as being like a minstrel show, so we thought, wow, what if we used this very racially charged art form to tell a story that's about a very racially charged subject? That could be a really interesting way to tell the story."
The effect is profound. The Scottsboro Boys is moving, stunning, and sometimes overwhelming. But, through it all, it is always entertaining, in Kander & Ebb's trademark razzle-dazzle way.
---
Source:
https://www.bostonglobe.com/arts/theater/dance/2016/10/20/with-scottsboro-boys-kander-and-ebb-made-daring-choice/cAUk8QfbqDfleKl62gWX6J/story.html