Alabama's Rich Culinary Heritage
Signature's Ali's Bar is now featuring special dishes inspired by the food traditions of Alabama in the 1920s and 30s. Read more about the inspiration for our menu below.
The Scottsboro Boys takes place in Alabama, primarily during the Great Depression of the 1930s. Many people in the state struggled with poverty – by the stock market crash in 1929, unemployment in Birmingham was over 20%. Alabamians in the '30s supplemented their diets with produce grown in home vegetable gardens, wild game they hunted, and seafood caught in the Gulf of Mexico and local rivers. Our menu showcases the resourcefulness and creativity that people developed in order to survive.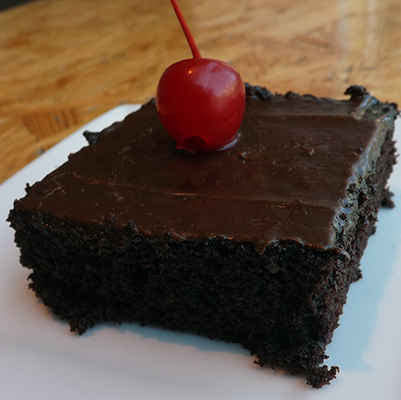 Chocolate wacky cake at Signature's Ali's Bar.
Chocolate Wacky Cake
Chocolate Wacky Cake is a dairy-free and egg-free chocolate cake, now on the dessert menu at Ali's Bar. The origins of this rich, spongey chocolate cake are unknown, but it may have gained popularity during the Great Depression when eggs, butter and milk were too expensive for everyday use. Home cooks in this era had to create new recipes to stretch their dollars and feed their families, and wacky cake was a bake sale staple throughout the US during the 1930s.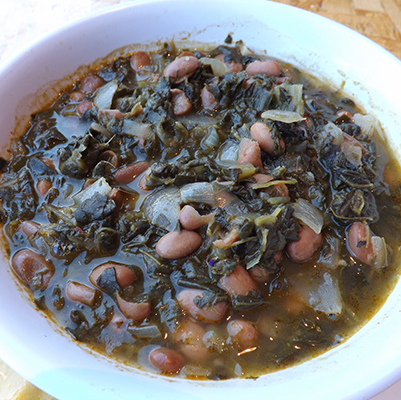 Collard greens and pinto beans at Signature's Ali's Bar.
Collard Greens & Pinto Beans
Collard greens were eaten as far back as Ancient Greece and have historically been eaten in Europe, Africa, and Asia, but European settlers probably brought them to the American South in the 17th century. They're a staple crop in the South because they can withstand summer heat and grow through the winter, when fresh vegetables are typically scarce. Many poor rural Alabama families during the Great Depression credited collard greens with keeping them alive, as the hearty greens are nutrient-rich and relatively easy to grow.
They've since become a New Year's tradition in the South, eaten with black-eyed peas for luck in the coming year. Greens are typically boiled with ham hock or other bits of pork, and the nutrient-rich leftover boiling water, or pot liquor, is delicious when served with cornbread. Today, collard greens are found in Southern kitchens and restaurants throughout the country, from roadside barbecue joints to fine dining establishments. Our collard greens are made with mushroom stock instead of pork, and they're rich and flavorful.
Image courtesy of Southern Bite.
Smoked Chicken with White Sauce
White sauce on smoked chicken is unique to Alabama and was invented in the 1920s by "Big" Bob Gibson, a railroad worker in Decatur who started smoking meat in his backyard on weekends. He opened his first barbecue restaurant in 1925 with white sauce on the menu, and his grandchildren and great-grandchildren still run his three restaurants.
White sauce is vinegar-based, with mayonnaise, lemon juice, and other spices to make a tangy sauce that keeps chicken from getting dry. Big Bob Gibson's B-B-Q now bottles and sells white sauce in grocery stores throughout the Southeast – give it a try if you're ever in the region. Signature's Ali's Bar serves our chicken with white sauce on a sandwich roll with pickle slices and chips.
Image courtesy of The Pioneer Woman.
Sweet Tea
Most Southerners will agree: sweet tea is the unofficial beverage of the American South. The first known recipe was published in 1879 in Marion Cabell Tyree's Housekeeping in Old Virginia, and now it can be found in every grocery store, restaurant, and fast food place in the region. Traditional sweet tea is made by steeping double-strength tea bags in hot water and stirring in sugar while it's still hot, to make it as sweet as possible. We've spiked ours with Knob Creek rye whiskey for a refreshing adult cocktail.
---
Sources:
Alsen, Dana J. "Alabama Food Frontier: Development of a Cuisine, 800 to the Present." Edited by Joshua D. Rothman. Alabama Foodways. Accessed May 15, 2018. http://www.alabamafoodways.org.
Davis, Edward H., and John T. Morgan. "Collards in North Carolina." Southeastern Geographer 45, no. 1 (May 2005): 67-82.
Edge, John T. The Potlikker Papers: A Food History of the Modern South. New York, NY: Penguin Books, 2017.
Glock, Allison. "Sweet Tea: A Love Story." Garden & Gun, July/August 2008.
Wake, Matt. "The origins of Alabama-style white barbecue sauce." AL.com. Last modified October 23, 2017. Accessed May 15, 2018. https://www.al.com/entertainment/index.ssf/2017/10/alabama_white_barbecue_sauce_b.html.