Blog:

2023 Andrew A. Isen Young Artist Gift Recipient for Overtures: Tziah McNair
Through Overtures, Tziah found that the relevance of "finding the love" runs deep.
After the application and selection process, Tziah was chosen as the 2023 recipient of the Andrew A. Isen Young Artist Gift for Overtures. The Gift of $2,500 is awarded to one participant for demonstrating excellence in their work and is to be used for educational purposes. A panel reviews applications to evaluate the applicants on the following criteria: growth, work ethic, contribution and future planning.
What Overtures Taught Tziah
Tziah shared that her experience in Overtures was almost "metamorphic." When considering attending the two-week intensive program, she feared that "ceaseless comparison" between herself and other talented young performers would lead her to question her "capacity to succeed in a competitive industry." However, through the program she found that was not the case at all: "The structure of Overtures (as well as the immeasurably kind people part of it) clarified that camaraderie and individual growth are not only able to exist simultaneously [in the musical theater community], but are in fact dependent on one another."
Along with Tziah's cohort, instructors Tracy Lynn Olivera, Matthew Gardiner and Holly Twyford had a true impact on her as an individual. Tziah said that "the constant support and praise cycling between my cohort, the core faculty and guests sparked a confidence I had never come close to experiencing. Not only did I receive beneficial feedback seeped in the notion that I had the potential to be great, I was affirmed that I already am.
When Tracy Lynn Olivera assures you that there is a place for you in this industry, if only you have the courage to take it, you take up space. When Matthew Gardiner applauds your instincts, you decide to trust yourself. When Holly Twyford tells you to find the love, you search relentlessly for it, and it is in these revelations that I have discovered so much of it."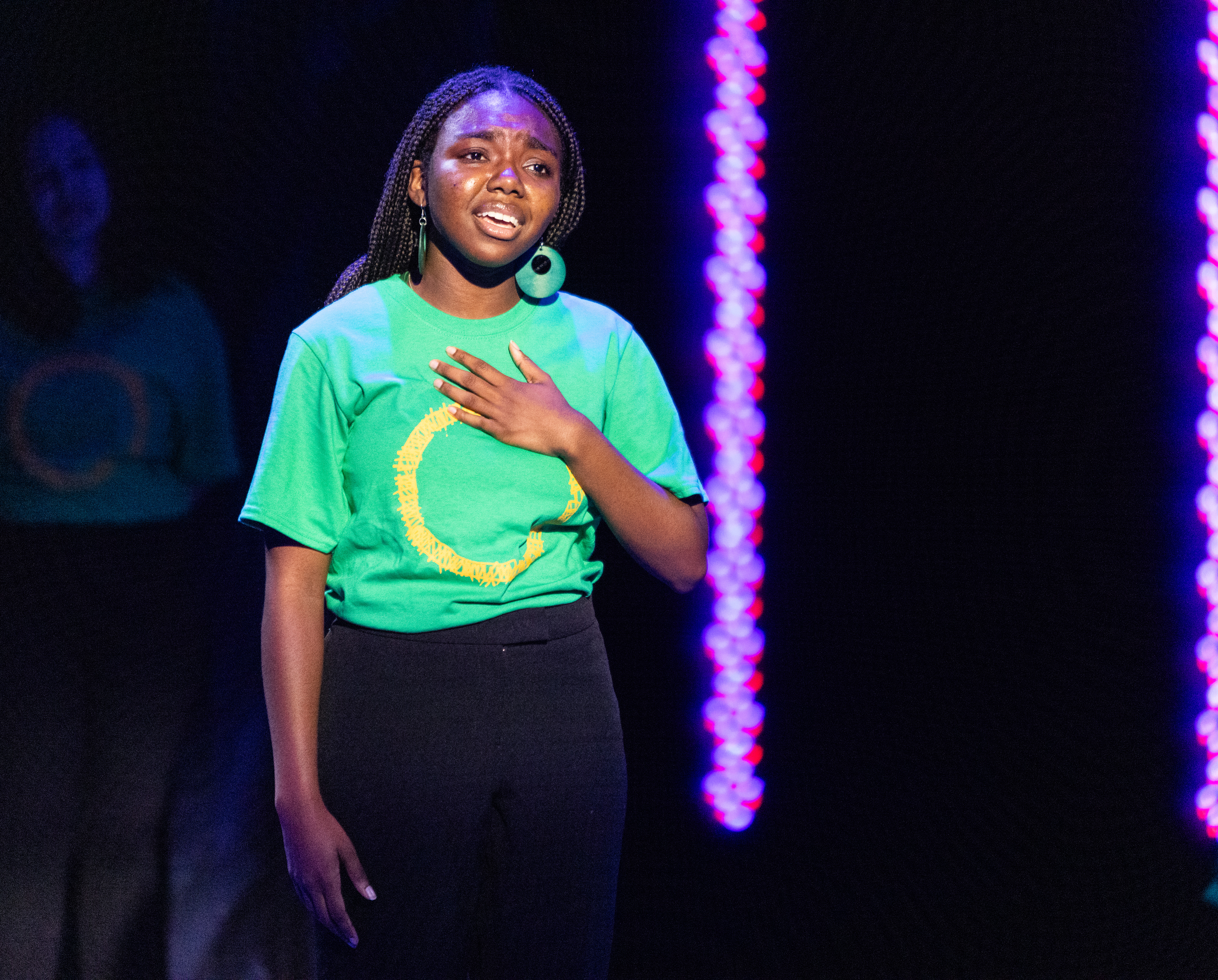 Tziah McNair performs in the Overtures Showcase. Photo by Christopher Mueller
Tziah's Future
As a rising junior at Howard University's Chadwick A. Boseman College of Fine Arts (CoFA), Tziah is eager to continue her growth as performer, by "re-committ[ing] to learning Spanish (a feat inspired by a member of [her] cohort who is fluent in 3 languages)" and plans to enroll in "supplementary dance/pilates classes at the top of the academic year" after discovering a newfound joy in movement from instructor Kelly d'Amboise.
Tziah also intends to use the Gift to fund a new project through the organization, D.I.V.A. Inc. (Divine, Intelligent, Versatile, Artists – The Society for Women in the Arts Inc.) at Howard. She shared, "in the spirit of the togetherness I experienced in Overtures, I would love to do an end-of-year drop box in May [at Howard], during which upperclassmen in CoFA can donate items that they've outgrown or no longer use to incoming freshmen (and other students in need). From ballet shoes to paintbrushes to fabrics, this would be an opportunity for young artists to practice sustainability while also pouring into their peers."
"My immediate next step is simple: to perform. All-around creative and co-founder of Signature Theatre, Donna Migliaccio, advised that when considering shows, they should fuel at least one of three areas: your soul, your career, and/or pocketbook. As a budding performer, I plan to prioritize career and/or pocketbook to start, especially since right now, being part of any production process is enough to set my soul on fire."
Tziah hit the ground running after Overtures, understudying Olney & Roundhouse's production of Fela! this summer. Looking ahead, she has been cast as Shameka Hoeclean in Howard's Fall Production: A Rhyme Deferred.
From Overtures Leadership
Matthew Gardiner, Artistic Director
"Tziah McNair proved herself over our two-week intensive to be an artist with exceptional talent and skill. We can't wait to see what comes next for Tziah and know the Andrew A. Isen Young Artist Gift will help her achieve her goals."
David Zobell, Director of Education
"Tziah came to Overtures with incredible presence, exceptional talent and a strong and earnest work ethic. We are so glad to be able to support her as she continues her artistic journey."
About the Andrew A. Isen Young Artist Gift