Dining at the Cotton Club
Ain't Misbehavin'
was inspired by the musical revues at venues like the Cotton Club in Harlem in the 1930s, where wealthy patrons enjoyed dinner and performances by some of the top talent of the Harlem Renaissance. We've used a real Cotton Club dinner menu from 1938 to recreate classic dishes at Ali's Bar, which you can enjoy before the show. Scroll down to see the Cotton Club's original menu and learn more about our featured specials.
A dinner at the Cotton Club included four courses: an appetizer, a soup, an entrée, and a dessert. And of course, patrons at the club were served only the best – roasted meats, fresh seafood, and the ultra-popular Jell-o were staples on the menu.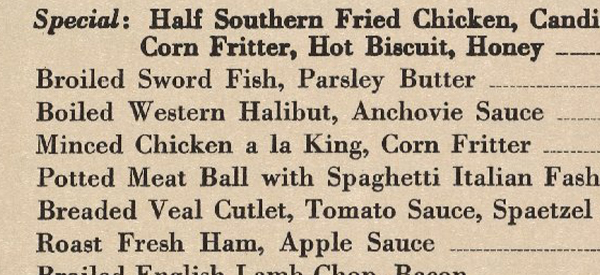 Chicken a la King on the Cotton Club menu
Chicken a la King became popular in the early twentieth century and was a staple dish in American restaurants and homes for decades. This delightful dish of diced chicken, peppers and mushrooms in a creamy sauce is comfort food at its best – to patrons in the 1930s, it felt upscale, accessible and cozy at the same time.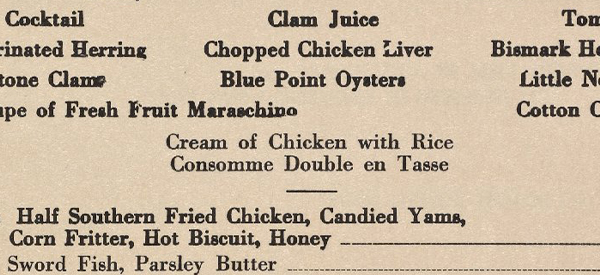 Cream of Chicken with Rice on the Cotton Club menu
Chicken soup is not just the perfect meal when your throat is sore; it warms your bones during cold winter months and envelops you in savory goodness with every bite. People all over the world have been eating different versions of chicken soup for centuries, and the Cotton Club continued that tradition with their cream of chicken soup with rice.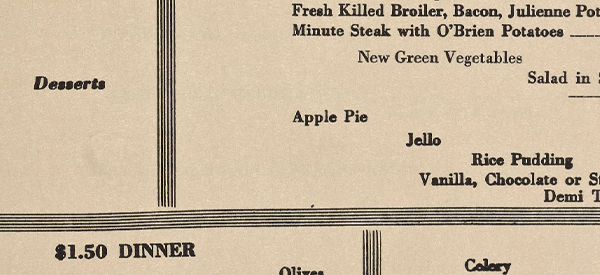 Apple pie on the Cotton Club menu
What could be more American? In fact, apple pie has been around in various forms in Europe since the Middle Ages, when British and Dutch cooks used exotic spices, figs, and raisins to flavor the apple filling. Of course, the version served at the Cotton Club was what we're used to today – brown sugar, cinnamon, and plenty of tart apples in a flaky crust.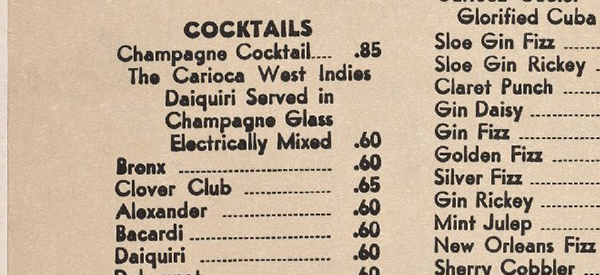 Clover Club on the extensive Cotton Club cocktail menu
This pre-Prohibition cocktail was created at Philadelphia's Clover Club, a men's club where local captains of industry would meet in the oak-paneled lounge at the Bellevue-Stratford Hotel. The Clover Club cocktail had a brief fling with popularity in the early twentieth century, and patrons enjoyed the combination of sweet and tart flavors from the raspberry syrup and gin.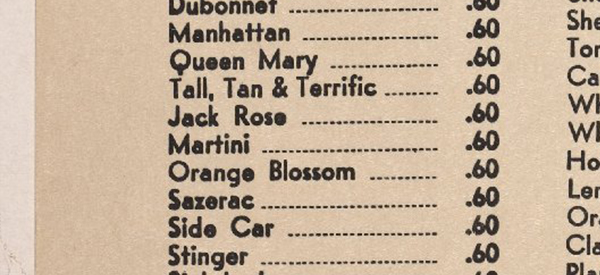 Jack Rose cocktail on the Cotton Club menu
Ernest Hemingway and John Steinbeck both loved the Jack Rose, a simple cocktail made with applejack, grenadine and lemon juice. Harvey's Famous Restaurant, a DC institution from 1858 to the 1970s, claimed to have invented the Jack Rose, but there are many stories of its origin – all we know for sure is that it's been around since at least 1905 and it is quite tasty.
---
View the full Cotton Club Menu
Learn more about the 1938 Cotton Club menu on the New York Public Library website, here: http://menus.nypl.org/menu_pages/62225