Early Piano Jazz History, from DC's U Street to Harlem's Lenox Avenue
by Shellée M. Haynesworth, Executive Producer/Creator of Black Broadway on U Project
From crazy cool runs to virtuosic piano rolls, it's impossible not to acknowledge how the 88 keys have played a significant role in the evolution of jazz. Talented jazz pianists helped popularize the genre beyond its bluesy roots in the American South to urban centers in the cultural meccas from D.C.'s U Street to Harlem's Lenox Avenue.
In the early 20th century, ragtime was a prominent, high-flying jazz precursor. Its syncopated piano rhythms and riffs catapulted the sound beyond the red-light districts in Biloxi, St. Louis, Memphis and New Orleans. The "King of Ragtime" Scott Joplin and Ferdinand "Jelly Roll" Morton were among the first leading stride pianists and composers to pack up their sheet music and take their boogie woogie on the road. Both musicians were very important transitional and influential figures between ragtime and jazz piano styles. In fact, Morton later ended up playing piano in a dive bar he managed known as Jungle Inn on D.C.'s Black Broadway in the late 1930s.
Fats Waller (right) with Howard Theatre manager Shep Allen standing presumably in front of D.C.'s historic Howard Theatre, circa 1939. Photo Credit: Scurlock Studio Archives, Smithsonian American History Museum.
By the 1920s, Fats Waller began tickling the ivories and became a larger-than-life persona. Beginning in his teens as a vaudeville organist in Harlem theaters, Waller's easygoing style and humorous quips earned him a substantial following both here and overseas during his career. His songs later inspired the Tony-winning musical Ain't Misbehavin', which features such Waller favorites as "Honeysuckle Rose," "Squeeze Me," "Handful Of Keys" and the title tune.


Just a few hours down the road from Lenox Ave, while Waller was making his mark, one of Washington, D.C.'s most famous natives was hitting his pre-Harlem stride in U Street venues. Throughout his 50-year career, Edward Kennedy Ellington, who most people called "Sir Duke", penned more than 1,000 compositions, including "Mood Indigo," "Satin Doll," and "It Don't Mean A Thing (If It Ain't Got That Swing)" and members of his big band orchestra added such classic tunes as "Caravan" (by Juan Tizol) and "Take The 'A' Train" (by frequent collaborator Billy Strayhorn) to the jazz canon.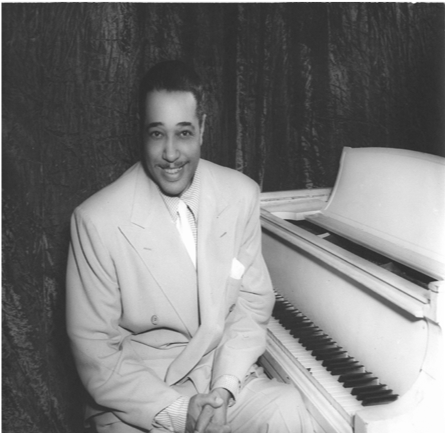 Duke Ellington at D.C.'s historic Howard Theatre, circa 1950. Photo Credit: Scurlock Studio Archives, Smithsonian American History Museum.

Certainly, there's no doubting the impact of the Harlem Renaissance's African American artists and intellectuals; the range of piano stylings, moods and compositions of Fats Waller and Duke Ellington converged at this fanciful crossroad to help the genre reach its peak and elevate jazz to its status as "America's classical music."