Freedom of Press and Speech
"Whoever would overthrow the liberty of a nation must begin by subduing the freeness of speech."
– Benjamin Franklin
Benjamin Franklin portrait by Joseph Duplessis
Part One: Freedom of the Press
The First Amendment is clear that Congress cannot make any laws that limit the freedom of the press. The First Amendment's primary goal for the press is to prevent the government from censoring it. Under these circumstances, censorship often means preventing the press from publishing information in the first place, though this can also mean punishing news organizations after they have published a story. Censorship of the press before a story is published in print, broadcast on television, radio or the internet is called "prior restraint," and the Supreme Court ruled that it was unconstitutional in a case called Near v. Minnesota (1931).
In this case, The Saturday Press was published a story stating that the city of Minneapolis, including the mayor and the chief of police, was under the secret control of a group of Jewish gangsters. City officials obtained an order to shut down the publication of the newspaper entirely and gave the editors the opportunity to go before a local judge to prove the story was true. The judge upheld the city officials' injunction stopping the publication of The Saturday Press and said that if the publishers continued, they would be found in contempt of court. Instead of shutting down production, the newspaper counter-sued, claiming that Minneapolis and Minnesota were violating their freedom of the press. The case made it to the Supreme Court, and they agreed that no government was allowed to censor the press because a free press is essential for the political system to work. They based their decision on historical events and statements including the following statement from British legal authority, William Blackstone:
"The liberty of the press is indeed essential to the nature of a free state; but this consists in laying no previous restraints upon publications and not in freedom from censure from criminal matter when published."
Sir William Blackstone
Citizens need a free press for many reasons, including the ability to to criticize the government or expose any of its potential wrongdoings. Left unchecked by the press, the government could potentially commit all sorts of things its citizens would disapprove of.
That being said, some issues pose such important security threats that the government is allowed to block the press from publishing about them. Military plans and movements are an example – enemy combatants could gain an advantage by reading about plans in a news source, so the government does have the right to prevent newspapers from printing that kind of information.
Posting information after events have happened is typically legal but there are some instances where that may prove problematic for publishers and editors. In The New York Times v. United States, the primary concern centered on whether the Times could publish the Pentagon Papers. These were secret documents outlining the history of the US's involvement in Vietnam in the 1940s, 50s, and 60s, and they showed that the federal government had lied about the scope and purpose of the war. Defense Department employee Daniel Ellsberg stole a copy of the papers and gave them to The New York Times, who debated about whether to publish. The government tried to stop The New York Times as well as The Washington Post from writing about the Pentagon Papers, since publishing would have hurt the government's image and possibly turned public opinion of the war, which was already quite sour. The court ruled in favor of the Times, further strengthening the First Amendment's defense of the free press.
Part 2: Freedom of Speech
Freedom of speech is a principle that supports the freedom of an individual or a community to voice their opinions and ideas without fear of retaliation, censorship or sanction by the government. The term "freedom of expression" often includes any act of seeking, receiving and imparting information or ideas, regardless of the medium used.
However, freedom of speech and expression is not always absolute. Common limitations to freedom of speech relate to slander, obscenity, pornography, sedition, incitement, fighting words, classified information, copyright violation, trade secrets, food labeling, non-disclosure agreements, the right to privacy, the right to be forgotten, public security, and perjury.
Freedom of speech allows for public criticism of the government. The First Amendment protects you from the government attempting to suppress your speech. The U.S. Founders pushed for this freedom to be included in the Constitution.
While some types of speech are protected by the First Amendment, not all levels of speech have the same protection:
Political Speech: This has the highest level of protection. Political speech occupies a place in the legal system of America that is called "preferred position." This means that any law or regulation or presidential act that limits political speech is almost always struck down by the courts. The main court case that solidified this preferred position was Brandenburg v. Ohio in 1968. In this case, a KKK member was making a speech that as you can imagine was offensive to a lot of people and could have been considered threatening as well. The court ruled that because the speech was political, it was protected by the First Amendment no matter how outrageous it was.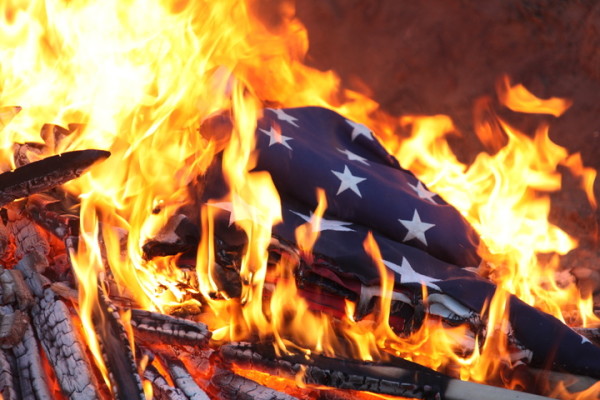 Burning the American flag is considered protected speech.
Symbolic Speech: Also protected by the First Amendment. Symbolic speech includes wearing armbands, carrying signs, or wearing things with words that are directed at a military draft, police, etc. This also includes burning the flag, which is pretty much always a political message. Not all symbolic speech is protected though. These include references to obscenity, fighting words, child pornography, blackmail and threats.
Hate Speech: This form of speech is protected even if it is really hateful. This includes burning a cross on someone's lawn, although that may be prosecuted as vandalism or trespassing.
Commercial Speech: Speech that proposes a commercial transaction (ads on TV, online, radio, newspapers, etc) are not typically protected by the First Amendment, but political commercials by campaigns and advocacy groups are. Spending money on political campaigns has been determined to be speech that is protected by the First Amendment.
Reminder! The First Amendment just protects you from government action, not the actions of private people or businesses. For example, if you work for a private company, your boss can definitely fire you for saying mean things about them or revealing company secrets. You don't have a First Amendment claim against them. However, if your boss is the government you probably do have the opportunity to issue a First Amendment case.
A specific example: in Pickering v. Board of Education (1942) a public-school teacher wrote a letter to the editor of the local paper complaining about the school board's usage of funds. He didn't write the letter on school time or on school paper. The school board fired him. He brought the case to the Supreme Court, claiming he was fired for a speech that was political in nature, criticizing local government and not for anything related to his job performance. And he won. Unless your employer is the government, you often cannot claim First Amendment rights for being fired.
Section Objective:
Students will come to a deeper understanding of what their legal freedoms of speech are and are not and will articulate their understanding through group theatrical and visual presentations.
Discussion Questions:

What do you think constitutes as "the press?" Are blogs part of the press? What can and should be censored when it comes to the written word?
How do you exercise your right to free speech on a daily basis? Do you?
Have you ever censored your own speech? Why? Were there positives to that decision? Negatives?


Citations / Further Exploration:
Why Freedom of the Press is More Important Now Than Ever: https://ideas.ted.com/why-freedom-of-the-press-is-more-important-now-than-ever/
Free Speech and the ACLU: https://www.aclu.org/issues/free-speech
Legal Information Institute, First Amendment: https://www.law.cornell.edu/constitution/first_amendment
---
Exercise: Express Yourself
Subject(s): English, History
Goals:
Students will be able to:

apply narrative techniques, such as dialogue, description, and pacing to develop experiences or characters.
explore and explain elements of the First Amendment.
understand that few rights are considered absolute. At times, individual rights must be balanced against public interest.


Introduction:
As a class, define and discuss each of the following elements of Freedom of Expression, asking students for examples of each from life and news.

Religion – You can believe what you want, belong to any religion or no religion without fear of persecution. The government will not encourage or promote any particular religion.
Speech – You can voice your opinions using words, symbols or actions without fear of government censorship.
Press – The government will not restrict/bar/censor the media.
Assembly – You can gather in a group to come together and collectively express, promote, pursue, and defend their collective or shared ideas.
Petition – You can criticize the government, and you can complain about policies that affect you negatively and ask for change.


Discussion:
Do you believe you have access to the extent of freedom of expression that you want?
Set-Up:

Students are placed into five groups.
Each group is assigned one of the five elements of Freedom of Expression.
Each group is given 20 minutes to create 3, 30 second long scenes that show what society and life would be like if that element of Freedom of Expression was not guaranteed to them as citizens. The scenes can show a positive effect, negative, or somewhere in between.
The first scene should show how life is different for those in political power.
The second scene should show how life is different for young people.
The third and final scene should show how life is different for minority groups.
Groups should present and discuss possible social ramifications for a society without their particular element of Expression.


---
h3. Exercise: Comic Strip Expression
Subject(s): English, History
Goals:
Students will be able to:

apply civic virtues and democratic principles to make collaborative decisions
comprehend elements of the First Amendment including Freedom of the Press and Speech.
express what is and isn't protected under the terms of the First Amendment.


Supplies: Paper, pens, pencils, markers, crayons
Set Up:

Split into groups that each correspond to one of the five freedoms of expression (Religion, Speech, Press, Assembly, Petition.)
Give each group a freedom of expression and five sheets of paper. They are then given ample time to create a five-panel comic strip related to their assigned freedom of expression. It can be a story of somebody using that right, a story of someone being denied that right, a quirky look at what that right is and what it isn't. If you're able to show how your freedom of expression interacts with another one, even cooler!
Guidelines: Don't dump all of this work on one person. You decide on how you want to split up the duties, but some possibilities include somebody working on the story, somebody working on fact-checking, someone drawing, someone coloring. Or you could each take a panel and do it. Make sure it's coherent and that it's showing an accurate depiction of that freedom.
Once each group has completed their comic strip, they should be hung up in the correct order for the rest of the class to view and discuss.


Discussion:

Do you employ your freedom of expression regularly?
How often do you speak up and out about things that come into your life?
What or how serious must circumstances be for you to speak and express yourself?