To Sontag, to Sondheim, to anything taboo!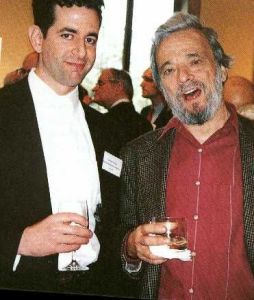 Jonathan Larson and Stephen Sondheim
While still in college, Jonathan Larson wrote a fan letter to Stephen Sondheim. To his surprise, Sondheim wrote back. What began was a correspondence that would last the rest of Larson's days as Sondheim became a mentor and friend.
Initially, Larson was interested in becoming an actor, and it was Sondheim who encouraged him to be a composer, recognizing his incredible talent. Larson's father, Allan, recalls, "Sondheim told him there were a lot more starving actors out there than starving composers." Sondheim also encouraged him to become involved with the American Society of Composers, Authors, and Publishers (ASCAP). Larson described ASCAP as "a sort of 12-step meeting for people who write musicals" but, he told American Theatre, his experience with other composers he met through the organization gave him greater confidence in his work. Sondheim would often write letters of recommendation for Larson to various producers in order for Larson to get developmental readings on his musicals.
Routinely over the years, Larson would send Sondheim his work for Sondheim's opinion. In one example, for his musical Superbia, Sondheim wrote back that his song "LCD Readout" was amazing. However, Larson did not always take Sondheim's suggestions. By the time he had written some 100 songs, Larson said, he knew when to accept and when to reject the comments of a would-be critic – even Sondheim.
Larson paid tribute to his mentor in his works. There is the shoutout to Sondheim in "La Vie Boheme," the song that ends Act One in RENT. In tick…tick…Boom!, Larson's autobiographical show, he calls Sondheim "my idol, a composer-lyricist so legendary his name may not be uttered aloud by me." The show also features a parody song called "Sunday" based on Sondheim's Sunday in the Park with George. Only, instead of an artist at an idyllic scene in a park, the singer is an overworked restaurant server at a frantic and chaotic diner.
The two last spoke about a month prior to Larson's untimely death. Reflecting on their last conversation, Sondheim told Entertainment Weekly that Larson "was learning to swallow his pride….He felt pleased with himself for growing up." And, while Sondheim had doubts that pop and musical theater could blend together successfully, he nevertheless thought Larson was on his way to achieving that. After Larson's death, Sondheim said that RENT would have been the composer's breakthrough work. In an interview with The New York Times, Sondheim said that Larson was one of the few people "attempting to blend contemporary pop music with theater music; he was on his way to finding a real synthesis… A songwriter who works in the theater must have a sense of what is theatrical, of how you use music to tell a story, as opposed to writing a song. Jonathan understood that instinctively."
If only Larson had lived long enough to fulfill his mentor's prophecy. In Larson's final interview, the night before his death, The New York Times classical music critic Anthony Tommasini compared him favorably to Stephen Sondheim. Larson left the interview elated with the knowledge that through Sondheim's guidance and their special relationship – he was on his way to greatness.