The Costumes
From Costume Designer Erik Teague: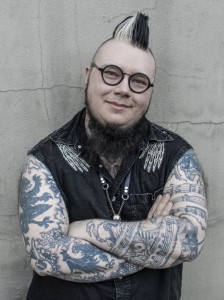 With this opportunity to design RENT, I wanted to get back to the gritty, dirty roots of NYC in the late '80s/early '90s. Our band of protagonists are all deeply flawed, but radiant, human beings. They defy the world around them by daring to create beauty out of the urban decay, even to their own detriment. They live in a cold, harsh 'Bohemian Hell'. To a certain degree, everyone must have clothing that is in some way protective against the elements. Just like the people, the garments themselves are used, abused, patched up, customized and renewed as an expression of defiance and individuality. Since the first time I heard the album as a high school theater kid, I have been struck by the lyric from "La Vie Boheme": 'Making something out of nothing; the need to express, to communicate; To going against the grain, going insane, going mad."
Check out some of Erik's design sketches below!