Sharing Sondheim
back to So Many Possibilties home page
"Say it soft, and it's almost like praying."
We are amplifying our Season of Sondheim with a special project: we challenge ourselves — artists, staff, and audience — to give voice to all of Sondheim's songs — singing or speaking them aloud before the closing of
Sweeney Todd
(July 9). We will call this collective effort "Sharing Sondheim," and it will feature a sing-along series ("Merrily We Sing-Along"), a song analysis series ("Into the Words"), talks and book signings with special guests, and other offerings to be announced.
View our progress in the image below – when a song has been spoken the title will change from black and white to color. Click on the image to expand it and scroll down to see the full song list and see when it was completed!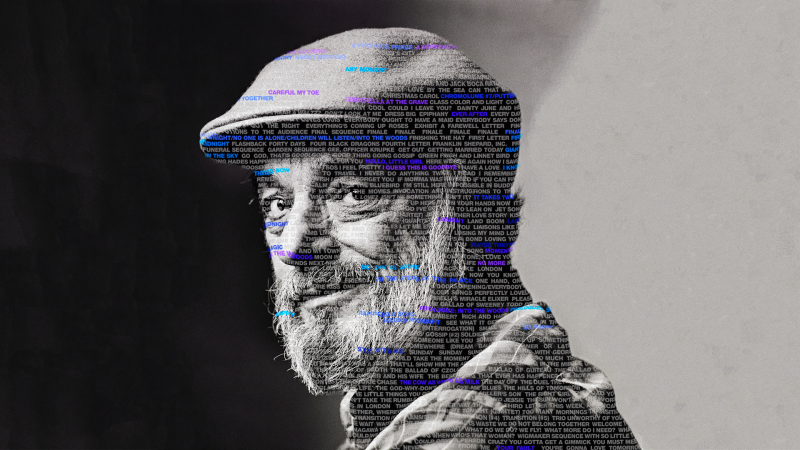 Saturday Night
Saturday Night
Class
Love's a Bond
Isn't It?
In the Movies
Exhibit A
A Moment with You
So Many People
One Wonderful Day
I Remember That
All for You
It's That Kind of a Neighbourhood
What More Do I Need?
West Side Story
Jet Song
Something's Coming
Maria
Tonight
America
Cool
One Hand, One Heart
Tonight (Quintet)
The Rumble
I Feel Pretty
Somewhere (Dream Ballet)
Gee, Officer Krupke
A Boy Like That
I Have a Love
Finale
Gypsy
May We Entertain You
Some People
Small World
Baby June and Her Newsboys
Mr. Goldstone, I Love You
Little Lamb
You'll Never Get Away From Me
Dainty June and her Farmboys
If Momma Was Married
All I Need Is the Girl
Everything's Coming Up Roses
Madame Rose's Toreadorables
Together, Wherever We Go
You Gotta Get a Gimmick
Let Me Entertain You
Rose's Turn
A Funny Thing Happened on the Way to the Forum
Comedy Tonight
Love, I Hear
Free
Lovely
Pretty Little Picture
Everybody Ought to Have a Maid
I'm Calm
Impossible
Bring Me My Bride
That Dirty Old Man
That'll Show Him
Funeral Sequence
Finale
Anyone Can Whistle
I'm Like the Bluebird
Me and My Town
Miracle Song
Simple (Interrogation)
A-1 March
Come Play Wiz Me
Anyone Can Whistle
A Parade in Town
Everybody Says Don't
I've Got You To Lean On
See What It Gets You
The Cookie Chase
With So Little To be Sure Of
Do I Hear a Waltz?
Someone Woke Up
This Week, Americans
What Do We Do? We Fly!
Someone Like You
Bargaining
Here We Are Again
Thinking
No Understand
Take the Moment
Moon in My Window
We're Gonna Be All Right
Do I Hear a Waltz?
Stay
Perfectly Lovely Couple
Last Week Americans
Thank You So Much
Evening Primrose
If You Can Find Me, I'm Here
I Remember
When
Take Me to the World
Company
Company
The Little Things You Do Together
Sorry-Grateful
You Could Drive a Person Crazy
Have I Got a Girl For You
Someone Is Waiting
Another Hundred People
Getting Married Today
Side by Side by Side
What Would We Do Without You
Poor Baby
Barcelona
The Ladies Who Lunch
Being Alive
Follies
Beautiful Girls
Don't Look at Me
Waiting for the Girls Upstairs
Rain on the Roof
Ah, Paris!
Broadway Baby
The Road You Didn't Take
In Buddy's Eyes
Who's That Woman?
I'm Still Here
Too Many Mornings
The Right Girl
One More Kiss
Could I Leave You?
Loveland
You're Gonna Love Tomorrow
Love Will See Us Through
The God-Why-Don't-You-Love-Me Blues
Losing My Mind
The Story of Lucy and Jessie
Live, Laugh, Love
A Little Night Music
Night Waltz
Now/Later/Soon
The Glamorous Life
Remember?
You Must Meet My Wife
Liaisons
In Praise of Women
Every Day a Little Death
A Weekend in the Country – Completed 10/28/22 Staff Meeting
The Sun Won't Set
It Would Have Been Wonderful
Night Waltz II
Perpetual Anticipation
Send in the Clowns
The Miller's Son
Finale
The Frogs
Invocation and Instructions to the Audience
I Love to Travel
Dress Big
All Aboard
Ariadne
The Frogs
Hymn to Dionysos
Hades
It's Only a Play
Shaw
Final Instructions to the Audience
Pacific Overtures
The Advantages of Floating in the Middle of the Sea
There is No Other Way
Four Black Dragons
Chrysanthemum Tea
Poems
Welcome to Kanagawa
Someone in a Tree
Please Hello
A Bowler Hat
Pretty Lady
Next
Sweeney Todd
Prelude: The Ballad of Sweeney Todd
No Place Like London
The Barber and His Wife
The Worst Pies in London
Poor Thing
My Friends
Green Finch and Linnet Bird
Ah, Miss
Johanna
Pirelli's Miracle Elixer
The Contest
Wait
Pirelli's Death
Johanna (Mea Culpa)
Kiss Me
Ladies In Their Sensitivities/Kiss Me (Quartet)
Pretty Women
Epiphany
A Little Priest
God, That's Good!
Johanna (Quartet)
By the Sea
Wigmaker Sequence
Not While I'm Around
Parlour Songs
Final Sequence
The Ballad of Sweeney Todd
Merrily We Roll Along
The Hills of Tomorrow
Merrily We Roll Along (1980)
Rich and Happy
Old Friends
Like It Was
Franklin Shepard, Inc.
Not a Day Goes By
Now You Know
It's A Hit!
Good Thing Going
Bobby and Jackie and Jack
Opening Doors
Our Time
Sunday in the Park with George
Sunday in the Park with George
No Life
Color and Light
Gossip
The Day Off
Everybody Loves Louis
Finishing the Hat
We Do Not Belong Together
Beautiful
Sunday
It's Hot Up Here
Chromolume #7/Putting it Together – Completed 9/19/22 Board Meeting
Children and Art
Lesson #8
Move On
Sunday
Into the Woods
Prologue: Into the Woods – Completed 11/9/22 Performance in the MAX
Cinderella at the Grave – Completed 11/9/22 Performance in the MAX
Hello, Little Girl – Completed 11/9/22 Performance in the MAX
The Cow as White as Milk – Completed 11/9/22 Performance in the MAX
I Guess This is Goodbye – Completed 11/9/22 Performance in the MAX
Maybe They're Magic – Completed 11/9/22 Performance in the MAX
Rapunzel's Song – Completed 11/9/22 Performance in the MAX
Our Little World
I Know Things Now – Completed 11/9/22 Performance in the MAX
A Very Nice Prince – Completed 11/9/22 Performance in the MAX
First Midnight – Completed 11/9/22 Performance in the MAX
Giants in the Sky – Completed 11/9/22 Performance in the MAX
Agony – Completed 11/9/22 Performance in the MAX
It Takes Two – Completed 11/9/22 Performance in the MAX
Second Midnight – Completed 11/9/22 Performance in the MAX
Stay With Me – Completed 11/9/22 Performance in the MAX
On the Steps of the Palace – Completed 11/9/22 Performance in the MAX
Careful My Toe – Completed 11/9/22 Performance in the MAX
So Happy – Completed 11/9/22 Performance in the MAX
Ever After – Completed 11/9/22 Performance in the MAX
Prologue: So Happy – Completed 11/9/22 Performance in the MAX
Agony (reprise) – Completed 11/9/22 Performance in the MAX
Lament – Completed 11/9/22 Performance in the MAX
Any Moment – Completed 11/9/22 Performance in the MAX
Moments in the Woods – Completed 11/9/22 Performance in the MAX
Your Fault – Completed 11/9/22 Performance in the MAX
Last Midnight – Completed 11/9/22 Performance in the MAX
No More – Completed 11/9/22 Performance in the MAX
No One is Alone – Completed 11/9/22 Performance in the MAX
Finale: Midnight/No One is Alone/Children Will Listen/Into the Woods – Completed 11/9/22 Performance in the MAX
Assassins
Opening/Everybody's Got the Right
The Ballad of Booth
How I Saved Roosevelt
Gun Song
The Ballad of Czolgosz
Unworthy of Your Love
The Ballad of Guiteau
Another National Anthem
Something Just Broke
Everybody's Got the Right
Passion
Happiness
First Letter
Second Letter
Third Letter
Fourth Letter
I read
Transition (#1)
Garden Sequence
Transition (#2)
Trio
Transition (#3)
I Wish I Could Forget You
Soldiers' Gossip (#1)
Flashback
Sunrise Letter
Is This What You Call Love?
Soldiers' Gossip (#2)
Nightmare
Transition (#4)
Forty Days
Loving You
Transition (#5)
Soldiers' Gossip (#3)
Christmas Carol
Farewell Letter
Just Another Love Story
No One Has Ever Loved Me
The Duel
Finale
Road Show
Waste
It's In Your Hands Now
Gold!
Brotherly Love
The Game
Addison's Trip
That Was a Year
Isn't He Something!
Land Boom
Talent
You
The Best Thing That Ever Has Happened
Addison's City
Boca Raton
Get Out
Go
Finale
Bonus
I Never Do Anything Twice
Can That Boy Foxtrot
The Boy From…
More
Back in Business
Sooner or Later
Live Alone and Like It