Caryl Churchill's Experiments and Adventures in Playwriting
The key to deciphering Caryl Churchill might be obsession – she's such an exceptional playwright, people tend to become obsessed with her work after seeing her plays. Heralded as the greatest living playwright, that appears to be the choice approach of academics and admirers alike. And with Churchill's extensive body of work, spanning six decades and over thirty plays, there is a lot to obsess over. Her career started in the 1960s writing plays for the radio. By the 1970s, her plays were debuting on London's most cutting-edge stages, and within a decade her work attained international success.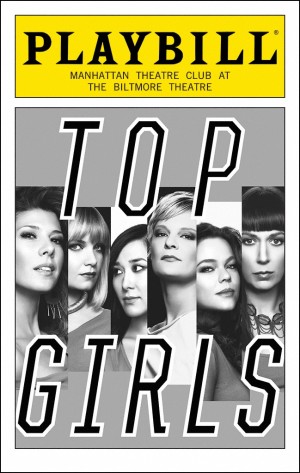 Top Girls Playbill Cover
Cloud 9, her comedy comparing colonial and sexual oppression, reached international audiences in 1981. The recognition Churchill gained from Cloud 9 cleared the way for Top Girls to become an even greater hit the following year. The show focuses on Marlene, a 1980s career woman who has recently been promoted to the head of the Top Girls employment agency. To celebrate her achievement, she invites powerful women from history and art to a dinner party to discuss what it means to be an accomplished woman in a male-dominated society. Guests include Pope Joan, a legendary woman who rose to become Pope by masquerading as a man, and Isabella Bird, a nineteenth century explorer. After premiering at the Royal Court Theatre in 1982, the original production moved across the pond to the Public Theater in Manhattan for a 4-week run and became a sensation.
Escaped Alone exemplifies what makes Churchill's work so alluring. She reinvents traditional theatrical composition, combining a selection of techniques from her toolbox to create an experience the audience has never seen before. The show is a one-act that takes less than an hour to perform, but the action is ceaseless, as Churchill warps time to span several afternoons. All four characters are women of at least seventy who spend the afternoons in an enclosed garden chatting over tea. Their conversations reveal the intimacy of long friendships; if they haven't known each other for a long time, as we suspect they have, then they have at least known the same people and places.  Entire conversations between characters occur in between spoken lines of dialogue, demanding the audience be as present with the characters as the actors inhabiting them. The reward for such attention is a lifetime of insight communicated through a show no longer than most TV dramas. As Kirkwood put it, "I watched her most recent full-length play Escaped Alone with exhilaration, but also despair, as I realised the play I was myself writing took two hours to say what Caryl Churchill had expressed in a single speech about cats."
Churchill has a gift for taking topics that interest her and, with the aid of her repertoire of playwriting techniques, she finds ways to talk about them that seem hidden. This ability is the product of absolute devotion to the craft—years of practice, experimentation, and research. Director James MacDonald, who has worked with Churchill on many shows, including Escaped Alone, told Andrew Dickson of the New Yorker that Churchill rarely gives anyone a script until it is exactly the way she wants it. Dickson observes that this clues us into how she works: "The writing is solitary, interior, and often dwells on a subject that Churchill has been chewing over for years." As with the consumption of her work, obsession might be the key to her process.  Churchill has literally changed the ways that plays are written – she invented the notation to show that two characters are talking at the same time with overlapping dialog. Churchill also plays with time, nontraditional casting, and other playwriting techniques that writers and audiences typically take for granted.
In 2018, Caryl Churchill received the Writers' Guild of Great Britain Award for Outstanding Contribution to Writing. In her speech honoring the recipient, playwright Lucy Kirkwood (The Children) contends that "[Churchill] is the only person writing today who says something new in both form and content every time she puts pen to paper." Fans and followers agree that Churchill's commitment to craft, creativity, and devotion to reinventing theatrical forms solidifies her reputation as a dynamic artist.
Among the many voices anxious to chime in on her work, Churchill remains silent.  She consistently declines interviews and has not given one since the early 1990s. Mark Lawson of The Guardian laments, "[…]one of my biggest regrets as an interviewer is that Caryl Churchill declines to speak publicly about her work. It's a resolution she has stuck to through the quarter century in which she has established herself as one of theatre's most innovative and provocative dramatists."  Whether this choice is the impulse of a literary genius or the strategy of a private individual, her work speaks for her.