Insider Info: The Costumes in Passion
When you think of a lush period drama like Sondheim's Passion, costumes are one of the first things that spring to mind. Costume Designer Robert Perdziola (Signature's A Little Night Music) and Signature's Costume Shop work together for months to create the diaphanous gowns, imposing military uniforms and every other article of clothing that actors wear on stage. We talked to Natalie Kurczewski, Signature's Associate Costume Director, about the long process of creating the nine 19th-century officers' uniforms you'll see Claybourne Elder, Bobby Smith and the other men in Passion wear on stage.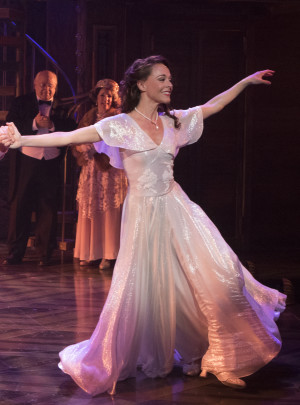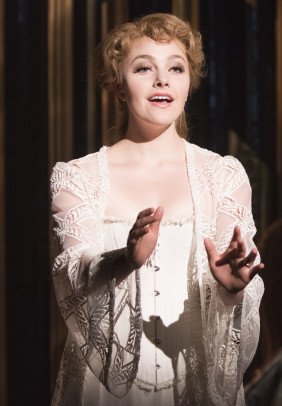 Two of Natalie's favorite garments she's made at Signature: Ashley Spencer's finale gown in Crazy for You® and Nicki Elledge's elegant peignoir in A Little Night Music. Photos by Chris Mueller.
The Costume Renderings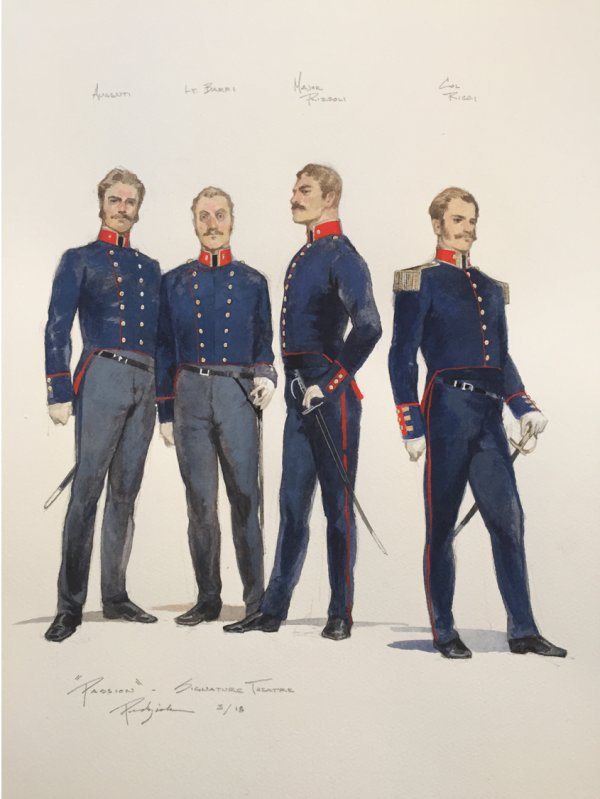 Costume designer Robert Perdziola's renderings for the men's military uniforms in Passion.
After meeting with Director Matthew Gardiner, Costume Designer Robert Perdziola created renderings of all the costumes used in the show and sent them to Signature's Costume Shop in early June.
Research and Patterns
Now it's the Costume Shop's job to turn these beautiful illustrations into real costumes our actors can wear. For a period piece like Passion, Natalie and Costume Director Fred Deeben aim for as much historical authenticity as possible while remaining true to the designer's vision. Costumes have to be reasonably comfortable for our actors to move around in, and sometimes an actor will also have to be able to very quickly change costumes backstage.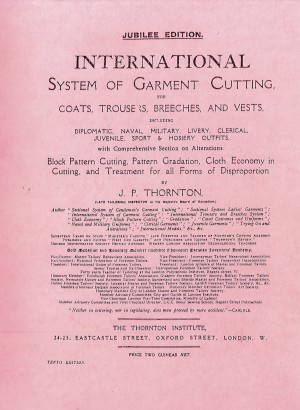 The front cover and internal fashion plates from JP Thornton's International System of Garment Cutting.
Of course, the Costume Shop can't find patterns for 19th-century military uniforms in a McCall's or Butterick pattern book – they have to reach back into history! Natalie used the Jubilee Edition of J.P. Thornton's International System of Garment Cutting, published in 1925, to create paper patterns for each uniform. She used patterns from real military uniforms of the period and adjusted the details to fit Perdziola's designs. According to JP Thornton, military trousers should be fitted so that men can't bend their knees when they sit down. Watch for this when our actors are seated during the dinner scenes in the show – they'll be sitting on the edge of their seats!
Muslin Mock-Ups and Actor Fittings
Once Natalie made the brown paper patterns, she and the stitchers built mock-up costumes out of muslin that's as similar to the real costume fabric as possible.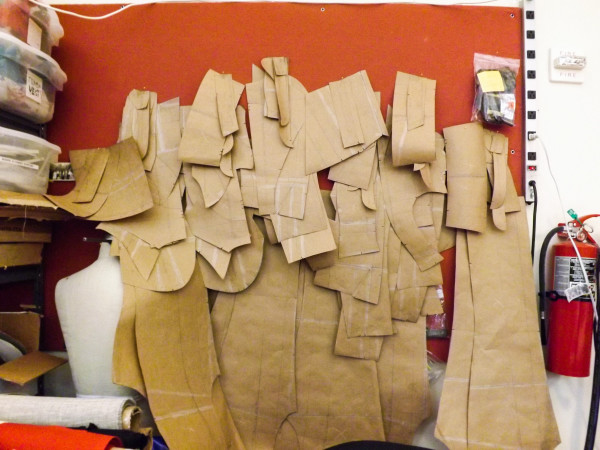 Six of the nine paper patterns made for the military uniforms.
Then it's finally time for the actors to come in. In the first week of rehearsals in mid-July, actors were scheduled for measuring and fitting with all of the mock-up costumes. This gave the Costume Shop a chance to refine each pattern so that every single piece of the costume fits the actors perfectly. Natalie made any adjustments needed on the paper patterns, and then, after all of this prep work, it was time to cut the real fabric.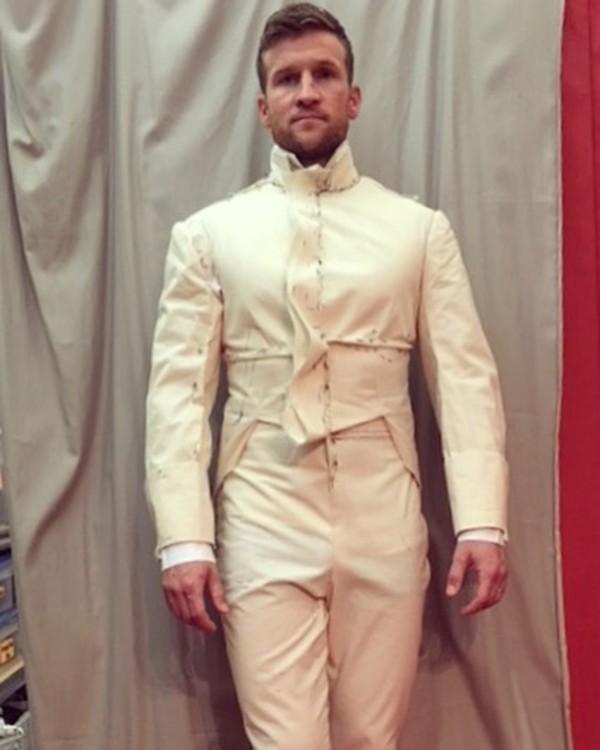 Claybourne Elder in a muslin mock-up costume.
Making the Costumes
Fred, Natalie, and the stitchers they hired used the adjusted patterns to build the costumes out of the real fabric for the show. The nine military uniforms are made out of navy heavyweight cotton, which is heavy enough to drape like wool but light enough to be comfortable for actors under the hot lights on stage. Each piece was cut and sewn, and then actors came in for a final fitting. Then it's time to add the details, including brocade, buttons, cuff decorations, and more.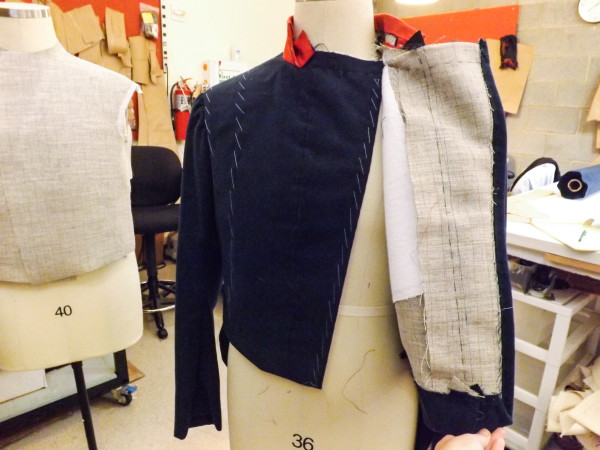 An unfinished jacket on a form, showing an internal piece of fabric meant to puff out a soldier's chest.
Our staff works long hours for weeks to get everything done in time for the Dress Rehearsal of each show, the final full run of the show in the Theatre with full costumes, lighting, sound, and orchestra, all for an audience of Signature staff. It's the last full performance for actors and crew to work out any remaining issues in front of a private audience before patrons come in the door.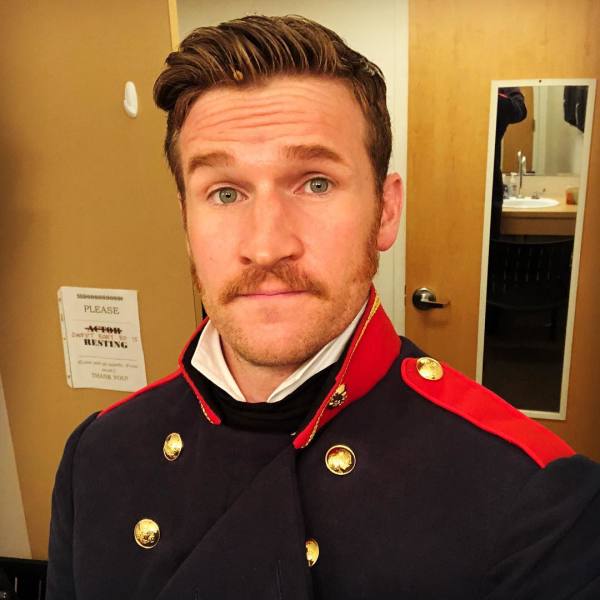 Claybourne Elder in his finished costume.
Once the costumes are finished, the wardrobe department takes care of them for the run of the show, including cleaning them and making minor repairs. After months of hard work, Fred, Natalie and the rest of the costume department are ready to focus on the next show in our season.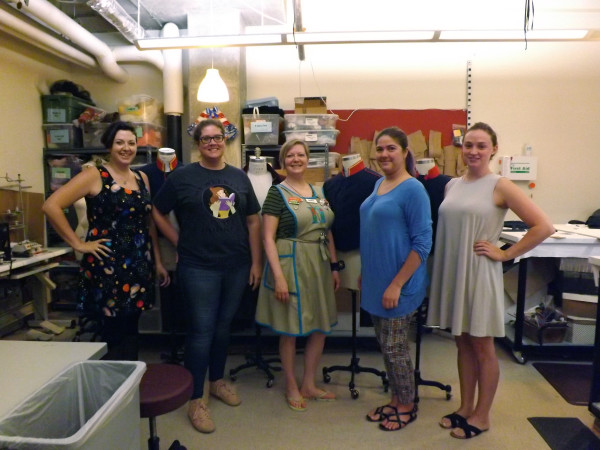 The women who worked on Passion: Megan Lynch, Vicki Burroughs, Natalie Kurczewski, Hedda Destefano, Nora Dahlberg.
Signature's production of Passion runs from August 14 – September 23, 2018. Don't miss seeing these beautiful costumes on stage now!
Buy Tickets
Come see these beautiful costumes on stage in Signature's production of Passion, running now through September 23, 2018.