Wilkommen, bienvenue, welcome to the Kit-Cat Club! In a few short weeks we will open the doors on Signature's very own Cabaret here in the MAX Theatre. As we quickly approach opening night we thought it might be fun to explore the background behind this 1967 Tony Award winning musical by John Kander and Fred Ebb.
Goodbye to Berlin
One of the main sources of inspiration for Cabaret was British writer Christopher Isherwood's 1939 novel Goodbye to Berlin. Set in Weimar Germany, the novel is a semiautobiographical account of Isherwood's time in 1930's Berlin. It goes on to describe pre-Nazi Germany and the diverse number of people he met in and around the city. It is written as a connected series of six short stories and novellas.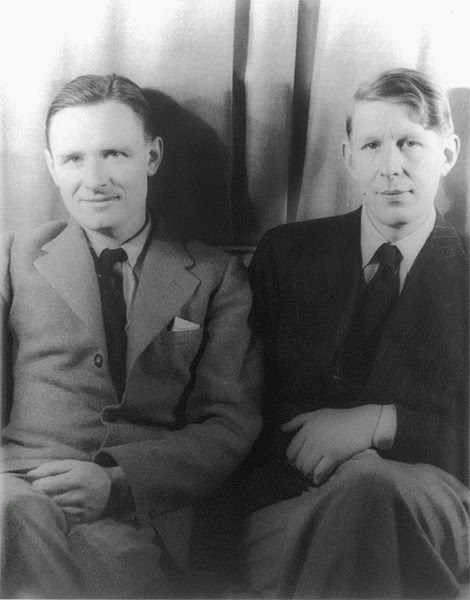 Isherwood was born in 1904 on his family's estate close to north central England. A writer at a young age, Isherwood later would go on to deliberately fail his college exams and leave Corpus Christi College, Cambridge without a degree in 1925. For the next few years he lived with violinist André Mangeot, worked as secretary to Mangeot's string quartet and studied medicine. During this period of time he wrote a book of nonsense poems titled People One Ought to Know, with illustrations by Mangeot's eleven-year-old son, Sylvain.
In 1925, Isherwood was acquainted with writer W. H. Auden, and Isherwood quickly became Auden's literary mentor and partner in an intermittent, casual liaison. In 1928–29 Isherwood studied medicine at King's College London, but gave up his studies after six months to join Auden for a few weeks in Berlin. Rejecting his upper middle class background and embracing his attraction to men, Isherwood remained in Berlin, the capital of the young Weimar Republic, drawn by its reputation for sexual freedom.
In all of the different texts, Isherwood's stories and characters evoke a crucial period in European history – even if what we learn about the realities of '30s Berlin is quite limited. His picture of Berlin is fairly sanitized. Berlin in the early 20th century was a place of great hardship and suffering and readers don't see much of that. All hardships aside, Isherwood's portrayal of Berlin helped shape the popular idea of what Berlin was like as the Nazi-era loomed in the not too distant future.
I Am a Camera
Building off of Christopher Isherwood's 1939 novel, Goodbye to Berlin, John Van Druten's 1951 Broadway play I Am a Camera, adds onto the original novels dramatic foundations. The original production was staged by John Van Druten and opened at the Empire Theatre in New York City on November 28, 1951 and ran for 214 performances before closing on July 12, 1952.
The production was a critically acclaimed success for both Julie Harris as the playfully indifferent Sally Bowles, winning her the first of five Tony Awards of her career for Best Leading Actress in a play. The play also won for John Van Druten the New York Drama Critics' Circle for Best American Play (1952). However it also earned the shortest famous review by critic Walter Kerr, "Me no Leica," in December of 1951.
The critically acclaimed stage play would later go on to become a full feature-length film in 1955. Directed by Henry Cornelius and with a script by John Collier, I Am a Camera stars Laurence Harvey as Isherwood and Julie Harris recreating her Tony Award-winning performance as Sally Bowles.
The film version of I Am a Camera was critically unsuccessful upon its release in both the United Kingdom and the United States, and the film was subjected to restrictive ratings. Long overshadowed by the stage musical version and the 1972 musical film of the same source, contemporary critics have noted the historic interest of this earlier presentation.
Regardless of popularity of the given medium the story was presented in, the elements that went into crafting the stage musical Cabaret, offer, as George Orwell stated, "brilliant sketches of a society in decay." To see some of these sketches we hope you will join us at the Kit-Cat Club starting May 12. For more information and tickets please call the Signature Theatre Box Office at 703 820 9771 or visit our website here.