Michelle S. Lee's Full Bio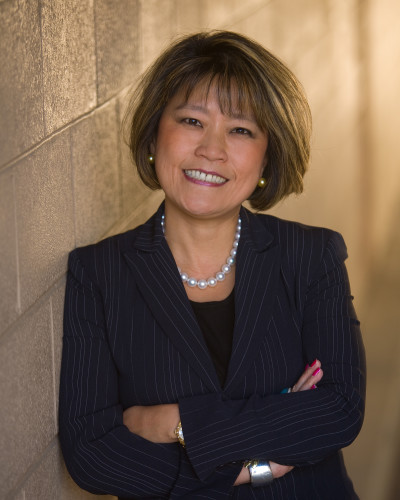 Ever the entrepreneur Michelle S. Lee is the Founder, President, and CEO of STG International, Inc. (STGi), a workforce solutions firm providing specialized professional services in the areas of healthcare delivery services and early childhood education/Head Start training and technical services to Federal government agencies. Established in 1997 in Ms. Lee's home, STGi currently has offices in Arlington, VA.
Ms. Lee originally started STGi by providing library services to Federal civilian agencies. Wanting to have a greater impact Ms. Lee wasn't satisfied with providing only library services, fast forward 25 years and STGi's impact is difficult to quantify and measure. STGi serves some of our nations most vulnerable, underserved, and deserving populations. Working alongside the Department of Veteran's Affairs STGi designs and builds state of the art outpatient clinics for the exclusive use of over 70,000 Veterans nationwide. Another example of the impact is STGi's work with the office of Head Start where STGi touches over 600,000 low-income children and families in the continental U.S., Guam, the U.S. Virgin Islands, and Puerto Rico.
STGi has earned a spot on the Inc. 500 list eight times, a feat only a few other companies have achieved and has been recognized with SmartCEO's "Corporate Cultural Award" – for exuding a positive, productive, and performance-driven company culture.
Ms. Lee actively supports professional, academic, and civic organizations, serving on several executive boards. Ms. Lee is the Chairwoman of the Board of Directors of ServiceSource, Inc., a leading regional not-for-profit that serves individuals with disabilities and their families; providing employment opportunities, rehabilitation, and housing services in eight states and the District of Columbia. Ms. Lee has served on the Board of Directors since 2008.
An advocate for delivering healthcare to the underprivileged, Ms. Lee has served as a trusted advisor on the Board of Directors for MedStar Washington Hospital Center Foundation, located in Washington, DC, since 2008. Ms. Lee also serves as the Founding Member on the Board of Directors for the MedStar Heart and Vascular Institute.
Numerous business organizations have recognized Ms. Lee's accomplishments, including the Network for Teaching Entrepreneurship (NFTE), the Ernst & Young Discussion Panel on Diversity and Entrepreneurship, the Association for Corporate Growth (ACG), the National Association for Women Business Owners (NAWBO), SmartCEO Future 50 Hall of Fame – five (5) times award winner, Washington Technology Fast 50, Forbes Magazine, Washington Business Journal Women Who Mean Business Award, and Woman-Owned Business of the Year Finalist for the Fairfax County Chamber of Commerce Outstanding Corporate Citizenship Award. She has been a featured guest on several radio shows, including the Executive Business Leaders Radio, The Growth Strategist, and Leaders Portfolio with Rebecca Blacksmith, and cover story and highlighted in SmartCEO Magazine, American Executive, and the Washington Business Journal.
A firm believer in community service, Ms. Lee and STGi contribute significantly to the vitality of the Northern Virginia community by supporting arts and culture activities at Signature Theatre. For the past ten years, Ms. Lee's philanthropic efforts have contributed to Signature Theatre's award-winning productions and community initiatives. Ms. Lee's enthusiasm for helping others is contagious as she has mobilized employees at STGi and individuals in her professional network to support her philanthropies.
Ms. Lee holds a Master of Science in Library and Information Sciences from Texas Woman's University. Ms. Lee is a member of Leadership Greater Washington Class of 2015 and the 2014 class of Leadership Foundry, Women in Technology.